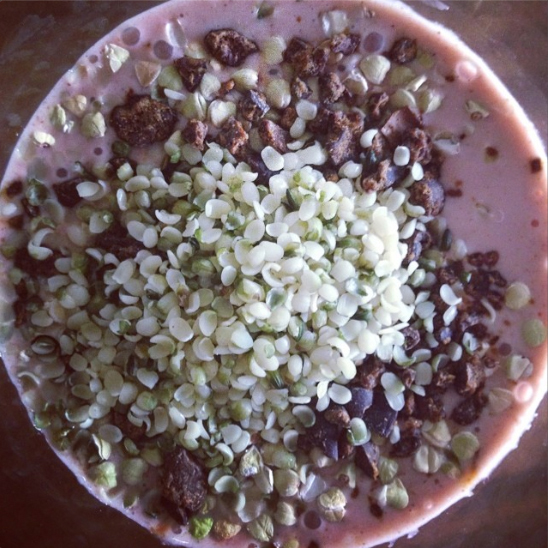 Shakes and smoothies help me kick start my day by food fueling my body with nutrients and superfoods that keep me at the top of my game. The blender 'chews' up the food for me, so it's easier to digest, and leaves me with more energy. Plus, on super busy days, it's just easier to for me to blend, rinse out my blender container, and then drink my shake on-the-go or while typing on my keyboard.
This recipe is made with antioxidant-rich strawberries (it's strawberry season!); healthy fat and omegas from almond, flax, and hemp; maca and cacao for energy and mood-elevation; buckwheat (a complete branch chain amino acid) for protein; camu camu for vitamin C; MSM for building connective tissue and the collagen in my skin; and sweetened with stevia (my favorite non-glycemic, non-caloric sweetener). Drink up and get your glow on!
Strawberry Superfood Beauty Shake
2 cups organic strawberries, fresh or frozen
2 Tablespoons raw almond butter
2 Tablespoons flax meal
1 teaspoon camu camu
1 Tablespoon maca
1 teaspoon MSM
4 drops stevia
Blend with about a cup or 2 of filtered water, to desired consistency. Pour into your favorite glass.
Serve topped with cacao nibs, hemp seeds, and sprouted + dehydrated buckwheat groats.
Enjoy!
xo