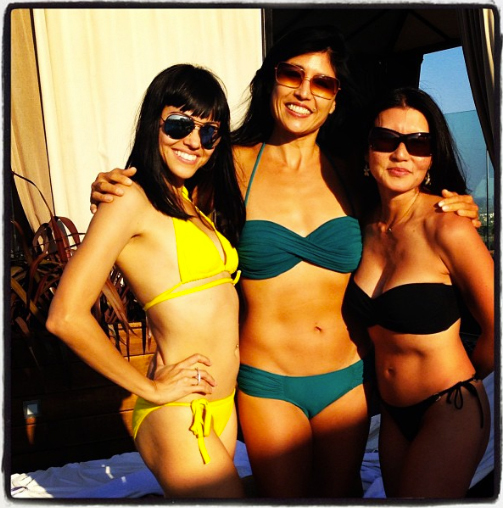 When the weather's nice out, all I want to do is play outside. I love hiking, biking, walking, swimming, and most of all…dancing! Yesterday, my ladies and I spend our Sunday Funday a Beverly Hills rooftop pool party where my friend and DJ Eric Sharp was spinning the best beats ever here in Los Angeles, CA.
Swimming and dancing are both great ways to soak up sunshine while burning calories. Dancing burns about 350 or more calories an hour and aides in weight loss because it takes about 3500 calories to loose a pound. I'm targeting to loose about 3 pounds in the next couple weeks. So, dancing is a fun way to workout and get in some accidental cardio.
For the next 3 months, I'm avoiding wheat and gluten, refined sugar, starches, and alcohol. Enjoying nuts and seeds in moderation, lots of vegetables, and some fruits. Focusing on upping my protein with sea vegetables, buckwheat, spirulina, and legumes. I'll keep you posted on how this makes me feel and how it changes my body. Hoping to get leaner and stronger for my Powerlifting Competition in November.
Let's all keep active this summer, while remembering to eat clean too. xo